August is here and it's Ingrid's month.This is the month of both the birth and death of my (and hopefully your) favorite film star.
I am currently watching the 1939 version of Intermezzo: A Love Story with Susan my employer/mentor/friend Sarah's mother. We were going to watch Notorious, but the DVD player wouldn't cooperate. Anyway, I am happy to start the month with this film. It was Ingrid's first U.S. film. It is essentially a redo of the 1936 Swedish version just incorporating new actors, producers, directors and remaking in English.
I love this film. The music is fantastic, the acting is wonderful and the story carries and doesn't lose anything over time. Leslie Howard was a fabulous actor and though it's hard to buy that he's Swedish, it isn't hard to think that he would woo Ingrid's character.
The film is the first glimpse of Ingrid in America. She walks into her first scene through the front door of the house. She is a young, beautiful, talented, headstrong pianist who loves the family she works for but falls in love with the man for whom she works.
The film is well shot, using trick techniques to make Leslie Howard into a concert (professional) violinist. Howard wasn't a musician and the close ups of his playing are actually made of 3 parts: Leslie Howard's face and chin, one violinist on the frets and another on the bow.
I am proud to say that Ingrid was an accomplished piano player. She said in her biography that it was perfectly natural for her to play piano because that's just what she did and what was expected of her. Ingrid's father wanted desperately for Ingrid to be a singer so the two just went hand in hand. Little did he know, she would only use these skills to accompany her true love; acting.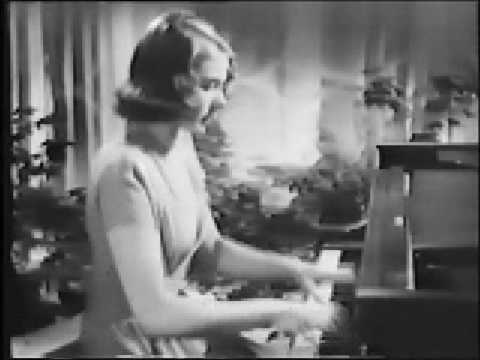 Ingrid is passionate and powerful when she plays the piano in this film. Though the sound was dubbed by Norma Boleslawski, her fingering is correct and her technique is pretty darn great.
There are a couple scenes where the P.O.V. is through the piano lid upright. This strange framing is utterly gorgeous. It focuses us on her emotions as well as sets a type of stage for the music. There is no escaping the inevitable love affair as well as the emotions and strength of the music itself.
I hope to fill the month with Ingrid films, though it will be hard due to my summer travels. I will be home on her birthday and I hope we can all pay homage.