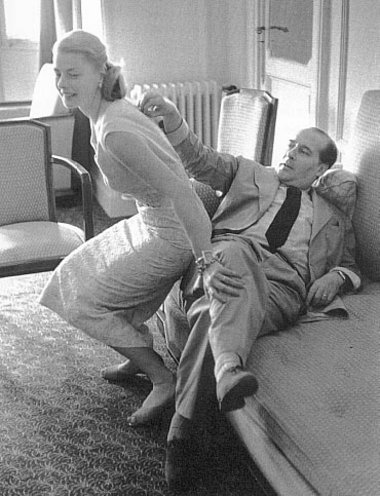 The United States, in all of it's Cold War, moralistic and conservative glory decided to declare Ingrid Bergman
persona non gratta,
in 1949, when it was learned that she had left the U.S., her husband and daughter for Roberto Rossellini and was due to have his child.
Ingrid's search for Italy was nothing more than an escapism for a woman who was in a rut. She saw Rossillini's films as different and raw. She had seen
Open City
and
Paisan
and loved the way it was so realistic and powerful. She sought after Rossellini and eventually fell in love with him and bore him 3 children.
She filmed 3 films that I would say really stand out among her work with Rossellini.
Stromboli,
Europa '51
, and
Viaggio in Italia.
Stromboli
was Ingrid's first film with Roberto Rossellini. The film was paid for by RKO's Howard Hughes, who (I've read) had a crush on Ingrid Bergman for a long while and actually bought RKO Studios
for
Ingrid to which she said "I don't want it." (She's so freaking awesome!) The movie was a drain financially, but now it carries an even larger story due to scandal, love and history. The film was filmed in English, but then dubbed in Italian. Ingrid was not used to the style and climate of the Italian "neo-realistic" filmmaker, but, she wanted something different than Hollywood, and as she later said, "I got what I wanted." U.S. Senator Edwin C. Johnson denounced the film, saying, "The degenerate Rosselini has deceived the American people with an idiotic story of a volcano and a pregnant woman. We must protect ourselves against such scourges."
This film was surprisingly okayed by the National League of Decency (which had the power to condemn films and therefore could severely cut revenue accrued by a film), but it still had ruined Ingrid Bergman's saintly iconic presence in the U.S. During the shooting of this film, Ingrid became pregnant with her son Robertino, divorced her husband Petter Lindstrom, was unable to see her daughter Pia Lindstrom (famous theatre critic and news woman in NYC) and after the film was shot she married Roberto Rossellini in a Mexican wedding (two stand ins did the physical ceremony while Bergman and Rossellini signed papers).
Howard Hughes grew impatient with Rossellini's methods of taking his time and spending all the money as well as the lengthy realistic shots. He trimmed the footage and released it to an unwelcoming audience. I read recently that Isabella Rossellini showed an uncut version of the film at a museum or festival, but I have yet to see it (that viewing would be a dream come true!).
Europa '51
is a film about the societal struggles in Italy as well as a woman who loses her wits after her son throws himself down a stairwell to commit suicide. The woman is put away in an asylmn because she snaps and visits the slums, unmarried women and disappears from her lavish lifestyle. She becomes somewhat saint-like in the film, having a prescence that seems out of body. During the shooting of this film, Ingrid became pregnant with her twin daughters Isabella and Ingrid Isotta Rossellini. You might know Isabella Rossellini if you have been alive at any point during the past 30 years. She was the spokeswoman for Lancome, was in David Lynch's
Blue Velvet
and has recently created the Sundance Channel's
Green Porno.
Due to her pregnancy, the film had to be rushed and though it was not a financially successful film (none of their collaborations were) it is a great film which the U.S. should release on DVD before we fans go nuts!
The last film I will mention is
Viaggio in Italia
or "Voyage in Italy." This film is about a couple from London who are finding that their marriage is suffering due to their lack of romantic feelings toward one another. They come to Italy to take care of an uncle's estate and find that the people there are exactly what they need to redeem their marriage. The film stars Ingrid and English actor George Sanders. The film shows Ingrid Bergman as a real woman, one who has to make decisions and live with them. It was the last of the Bergman/Rossellini motion pictures they filmed together (though they were involved in television and stage productions toward the end of their marriage).
I feel like these films, though they were said to have not been based on Roberto and Ingrid's relationship, reflect the nature of their relationship. The beginning is noted by a movie about a young woman choosing between two villages, pregnant with no one to turn to other than God. Then they moved into the cultural clashes and economical differences that stir up trouble and create discourse in marriage. The last, was the most mature of the three. The couple has to decide what they want and maybe come to face that they don't know what they want and won't find anything valuable in their spouce.
These movies are hard to find on DVD. My version of
Europa '51
does not have English Subtitles or dubbing (I have to listen to Italian, read Spanish and translate to English from those two). They are all worth seeing and I am glad that Roberto Rossellini is becoming more notable as time goes on. This period is relevant to a lot of new film, history and society.
Ingrid was welcomed back into the Unite States in 1957, after the US Senate dropped the declaration against her. She saw her daughter again and won the public back with many new films.
(Isabella, Ingrid, Robertino, Pia, Ingrid)
She spent a lot of her time in Europe, but that's how she should have, considering America's one time Saint wasn't actually ever American. She kept her Swedish citizenship until the day she died, her 67th birthday.